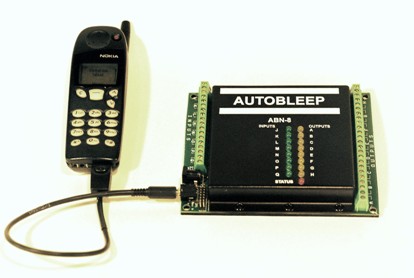 The AutoBleep remote SMS controller family consists of the ABN-1 and ABN-8 devices. In addition to the ABN-1 and ABN-8, ABN-1+ and ABN-8+ have further extended features.

These devices plug into a Nokia 5110/6110/6150 telephone for connectivity to the GSM network. In the case of the ABN-1+ and ABN-8+, these have an integral GSM module, thus precluding the need for an external cellphone.

The ABN-1 provides a single relay output and a single input.

The ABN-8 provides 8 relay outputs and 8 inputs.

These inputs and outputs allow the ABNs to be interfaced with a wide range of security and industrial devices.

The inputs and outputs provide a high degree of isolation for protection from lightning or power surges.

The relay outputs can be used to switch external loads up to 10 amps and 220 volts. Changeover contacts are provided for normally-off or normally-on loads.

The inputs may be triggered by applying a signal of from 5 volts to 18 volts DC.

Operation of both the ABN-1 and ABN-8 is controlled by sending SMS messages to the devices from any cellular telephone with SMS capabilities.

The relay outputs are controlled by sending an SMS message which contains a simple two-character sequence in which first character specifies which output is to be activated, and the second character specifies whether the output should be switched on, off, or momentarily activated.

The outputs may be configured to activate when voice calls are received from approved callers' numbers. The telephone does not actually answer the call, so there is no call charge. This feature is useful for access control applications.

The inputs are programmed by sending an SMS message which specifies, firstly which input is being programmed, secondly to which telephone numbers an SMS message should be sent when that input is activated, and thirdly the body of the message which should be sent when that input is activated.

Timed functions are also available whereby outputs can be activated at specific times, inputs can be reprogrammed at specific times and status information can be sent at regular intervals.

The ABNs can also be configured to make or answer voice calls, which permits approved callers to 'listen in' to activities in the vicinity of the ABN.

In addition, the ABNs all have a security feature whereby they may be instructed to accept command information only from a specified list of telephone numbers. This effectively prevents unauthorised persons from issuing commands to the devices.

Although all features of the ABNs are accessible purely though SMS messaging, an optional data cable permits the ABNs to be connected to computer system to futher extend the versatility of these products.

The ABNs require a nominal 12 volt supply which may be provided by an inexpensive mains adaptor, or alternatively, from a vehicle battery (where it is being used in a vehicular application), or to the backup battery of an alarm system (where it is being used in a security application).

The power consumption of the ABNs is so low that it will not significantly drain a vehicle battery in the instance where it is used as a vehicle alarm system.